By Kate Vollrath
The birds have been calling for several hours, which means the lake and the streets of the village are also calling. Saturday mornings in the summer can feel both peaceful and high intensity, because the minute you open your eyes, you're reminded that the weekend is young, and you must decide what exactly it is you'd like to do with your precious time during this fleeting season in Wisconsin.
Whether you're here for a quick weekend stay or you're one of the lucky ones who gets a week or two in Elkhart Lake, the Saturday Farmers & Artisans Market is worth putting on your schedule. The market runs from May 28 – October 8 from 8:00 am – noon, making it a consistent event on the calendar all summer long. Bring a few empty bags to fill with treats and gifts, or stop by the Chamber of Commerce office during the week to pick up a sturdy tote bag made specially for the market.
While the market does lean heavily towards local artisan goods including clothing, jewelry, bath products, paper goods, home and garden décor, and even treats for your pet, there are plenty of food items to be enjoyed. While locals know their stands and beeline it directly to their favorites, I think for first time visitors, it is helpful to take a full lap to get a sense of all the vendors, and then go back through a second time to the ones that caught your eye, especially if you want to pick up some fresh food to take home.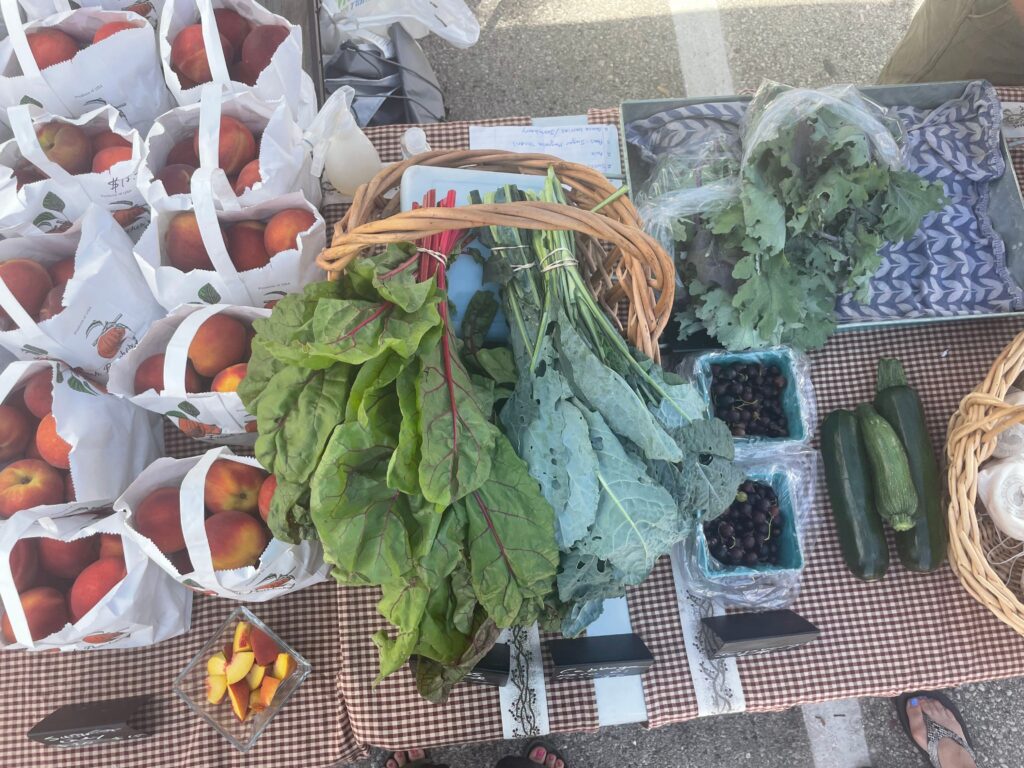 Inside the village square, towards the northeast corner, Kip Shire Farm keeps kitchens stocked with seasonal vegetables, fruits, and focaccia, and the Vang family has the freshest herbs around (my basil lasted with the stems in a jar of water on the counter for over a week). Ledgeview Farms can be counted on to hold down the fort for your summer caprese and bruschetta with their hydroponically grown tomatoes.
Surrounding the produce stands, you will notice the market really shines in its selection of specialty items that preserve Wisconsin's flavor all year round. These items are perfect to have on hand for entertaining and for taking back home with you. Country Fresh Salsa is a standby on Saturdays. There are a lot of flavors to choose from, so don't be shy, Judy will offer you a taste to help you decide. I enjoy the classics, but if you're feeling something a little more exciting, give the strawberry and apple salsas a try. Sunset Apiaries honey is perfect for cocktail party cheese boards or your breakfast spread. Katie and her niece Lydia will help you select which honey is best for you.
When I was a little kid, there was a man who sold maple syrup at the market who would let us sample his product with a bit of vanilla ice cream. Thanks to him, it's still a treat we enjoy in the summertime. Every time we eat this combination, we think of his smiling bearded face and the market memories that raised us. I don't remember his name, and he's no longer at the market, but the current maple syrup vendor, Grandpa Kissinger's Maple Syrup, has been supplying the market with premium quality syrup for thirteen years now.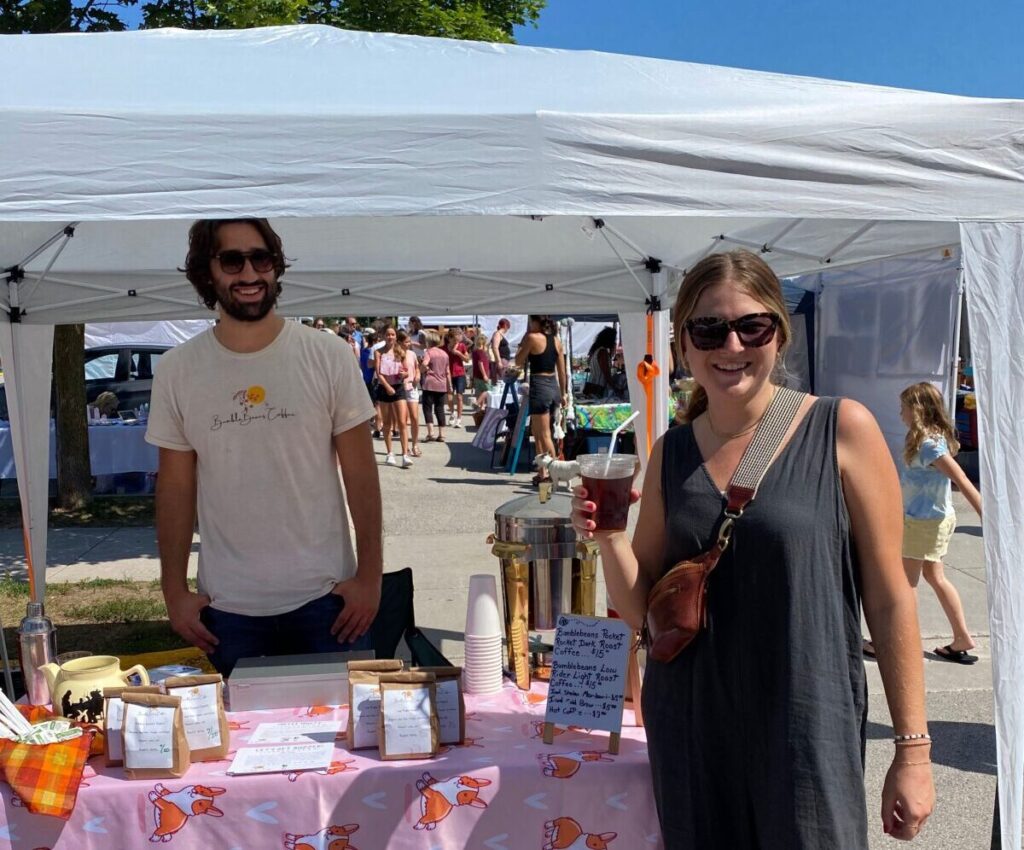 After wandering the village square and admiring the historic train depot you'll get your bearings and maybe start to feel a little hungry. If you make your way to the outskirts of the square, you'll find vendors ready to feed, hydrate, and caffeinate you. Towards the southwest corner of the square, BumbleBeans is new on the scene, and thank goodness for that, because here you can find hot coffee, cold brew, and also ethically sourced beans that are roasted right in Elkhart Lake. I highly recommend being at least a little caffeinated at the market to really take it all in.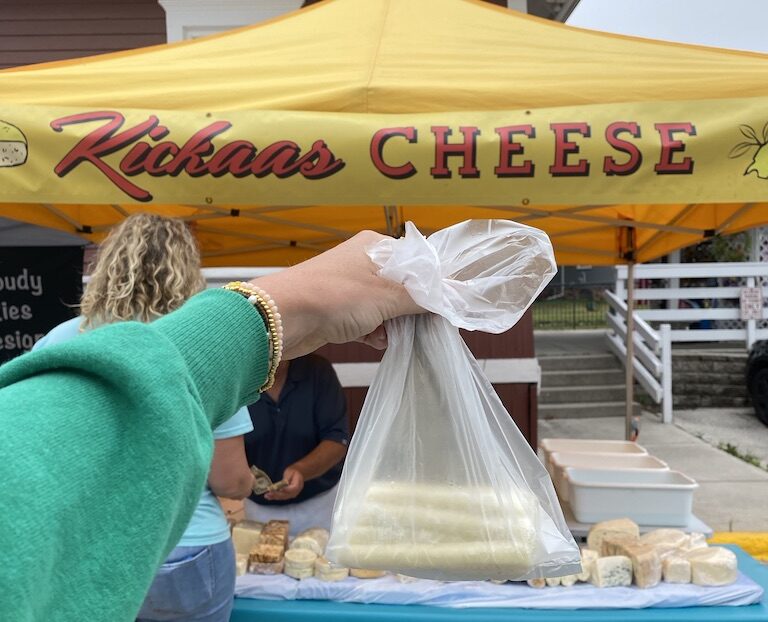 Just a little down the sidewalk from Bumblebeans, Kickaas Cheese's is also making a debut this summer. If you want to get a taste of what real string cheese tastes like, grab a little bag from them. After you check out the cheese selection, it's worth heading below the large Elkhart Lake sign on top of the depot and paying a visit to Linda's cases of baked goods. Here you will find the kind of comforting bakery you need on the weekend. Blueberry muffins, avocado brownies, cream cheese frosted carrot cake, and lavender pound cake are a few items you may see. She's always looking for suggestions, so if you have something you'd like to see in her case in the future, let her know.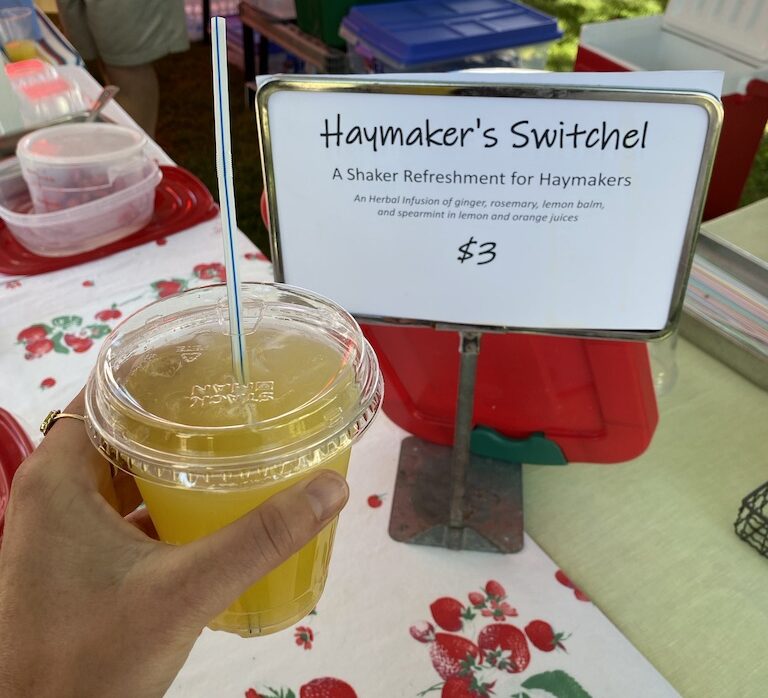 If you're wanting her fresh bread, get there by 9:30. She's currently working with one oven, so the loaves she brings go fast. And definitely try her Haymakers' Switchel, a beverage inspired by what farmers drank in the fields to quench their thirst back in the day. The switchel has ginger, rosemary, lemon balm, and spearmint bathed in lemon and orange juice, and it's exactly what one needs if they were out and about listening to live music the evening before.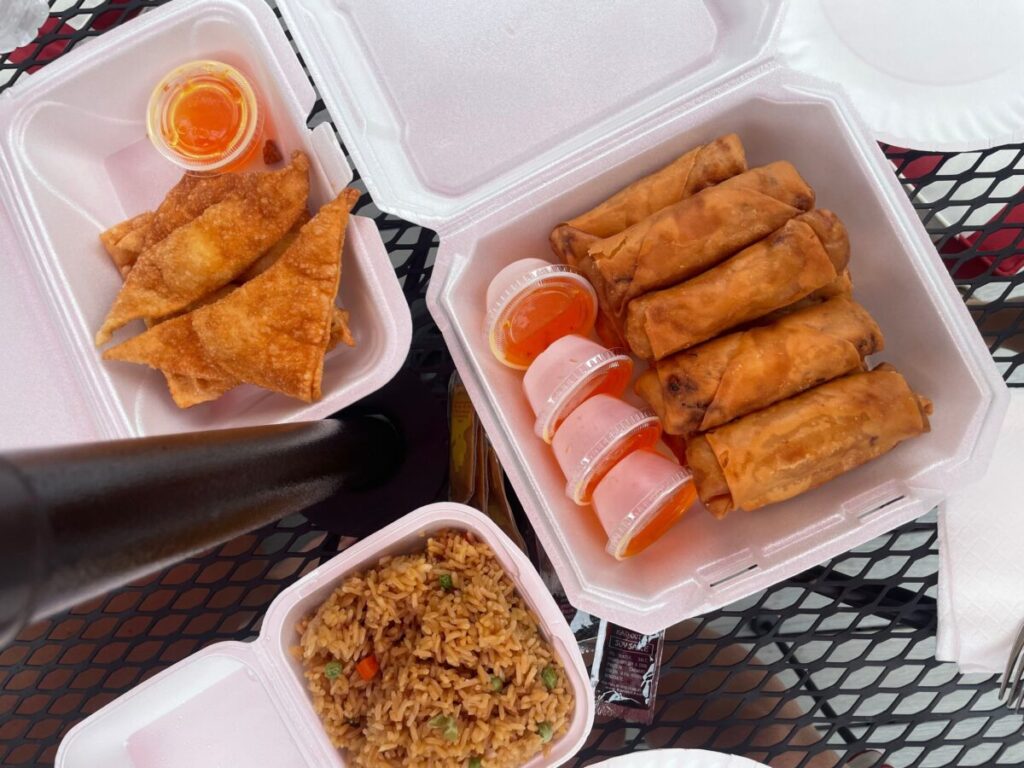 Just across the train tracks from Linda is another row of stands that saves the day if you get a later start and need sustenance. Keep your eyes open for where locals line up at the stand with no sign, but a whiteboard telling you all you need to know. Tou has been serving up his family's Hmong and Asian Foods for at least a decade, driving all the way in from Neenah. Snack on egg rolls, crab rangoons, and fried rice on the sidewalk, or take it with you. Don't skip the rhubarb tea.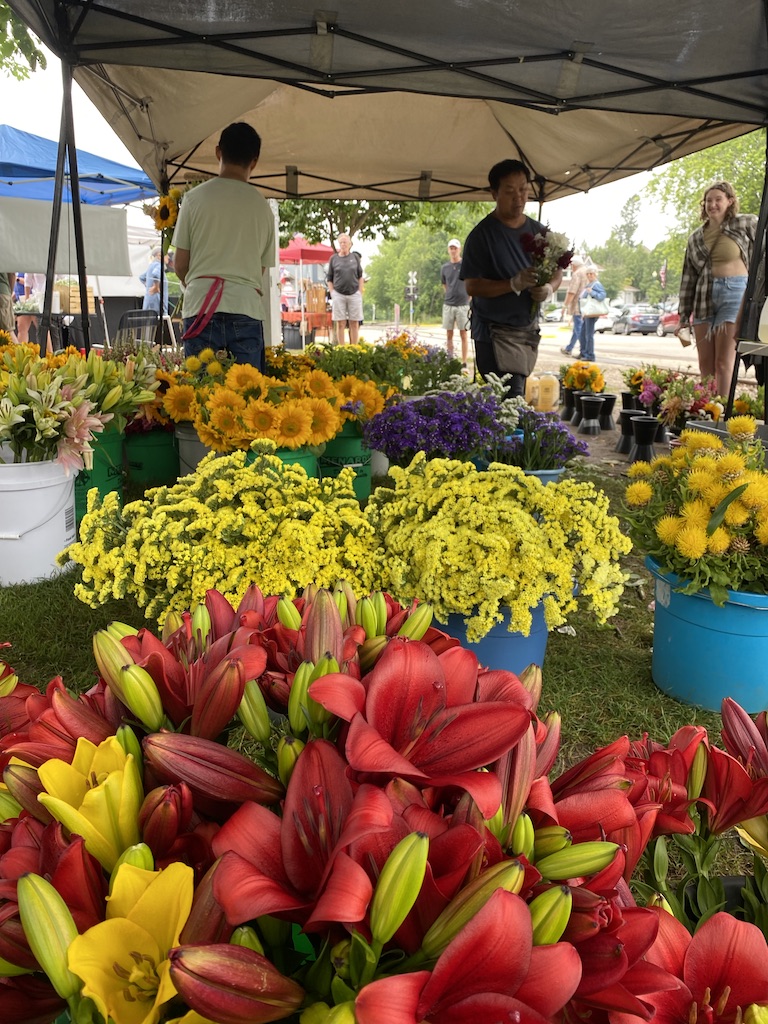 Situated between Linda and Tou, is an affordable item of luxury that's not for eating, but still very fresh and a reminder of the market for days to come. Vu's flower stand is iconic and shouldn't be missed. The man is somewhat of a legend in town. So much so that after years of village residents trying to convince him, he finally raised his bouquets from $10 a piece to $20. Give him an idea of what colors or specific flowers you like or let him present you with his creative freedom. Sit back and admire what feels like a floral magic show.
As you leave the village square, we locals think you'll agree – there is nothing sweeter than starting your Saturday with a bouquet and bag full of little Wisconsin treasures to remind you of the weekend you spent in Elkhart Lake.
Kate Vollrath
Kate Vollrath was born and raised in Elkhart Lake. After several years of working and adventuring in Anchorage, Alaska and a year studying in Italy, she has returned to her favorite freshwater shoreline. Wisconsin will always be home. The incredible local culture, extraordinary community, and summer Sundays on the water are what keep her rooted and returning no matter where life takes her.