By Road America
– Chevrolet Pays Tribute to One of America's Greatest Road Courses –
Chevrolet recently unveiled its 2019 Corvette in Elkhart Lake Blue and five of the new Corvettes will be featured as official pace cars at Road America's National Park of Speed.

According to Chevrolet's designers and engineers, Elkhart Lake Blue is brighter than the outgoing Admiral Blue. Chevrolet took suggestions from Corvette fans to heart and came up with a brighter blue to pay homage to the brilliant waters found in nearby Elkhart Lake Wisconsin, the home of the brands most admired road course, Road America.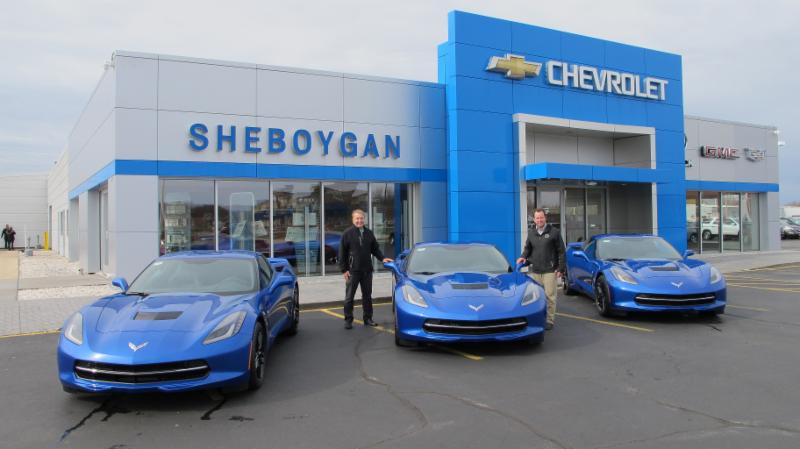 Additionally Chevrolet executives and Corvette aficionados openly admit there are not very many brands in North America that have as strong a tie as Chevrolet's Corvette and Road America.
"If we look at all the racetracks on which we compete and the history that Corvette Racing has enjoyed at each of them, you could make the claim that none are more important than Road America," said Doug Fehan, Chevrolet's Program Manager for the Corvette Racing effort. "Elkhart Lake was the site of the very first Corvette Corral. You have the iconic Corvette Bridge, the Kettle Morraine, the food the people… all those things and more."
For the better part of 63 years Chevrolet has used the classic 4.048-mile, 14-turn circuit in the Kettle Moraine valley to showcase the Corvette as both a production showcase vehicle and top-line racecar. That dates back to the 1960s when Chevrolet leadership would traditionally test at and use Road America to unveil high-performance production models including the original Stingray racer as well as the 1961 Mako Shark concept. A tradition that dates nearly as far back as the Corvette itself, as many may not know there was an Elkhart Blue Stingray Corvette in 1967.
The Corvette Grand Sport – a legendary name within the Corvette community – found numerous successes at Road America with driving stars such as Roger Penske, Jim Hall and Hap Sharp.
The Corvette brand also has been well represented at Road America with the famed Corvette Bridge, which first appeared in 1963 and then returned in 2011. It served to reaffirm the relationship between Road America and the Corvette Cross Flags.
The Corvette Racing program made its first racing appearance in 2002 as the American Le Mans Series made its Road America debut. Not surprisingly, a Corvette visited Victory Lane…and has many times since!
Look for the new Elkhart Lake Blue Chevrolet Corvette Road America pace cars this season and who knows, you may get the chance to ride in one.


About Road America: Established in 1955, Road America is located midway between Milwaukee and Green Bay in Elkhart Lake, Wisconsin. The world's best racers have competed at this legendary four-mile, 14-turn road circuit for over 60 years. The 640-acre, park-like grounds offer amazing viewing opportunities, fantastic concessions and high-speed excitement to hundreds of thousands of spectators each year. In addition to public race weekends, Road America offers a variety of group event programs, the CTECH Manufacturing Motorplex for karting and supermoto, and the Road America Motorcycle and Advanced Driving Schools. For more information, visit www.roadamerica.com Follow Road America on www.facebook.com/RoadAmerica and on Twitter: @roadamerica or call 800-365-7223.