By Kate Vollrath
For one hundred years, Gessert's has been sweetening the days of locals and visitors alike. Those of us who were raised on the sugar and cream of the iconic ice cream parlor remember hoisting ourselves onto the bright green stools every summer as we devoured the lovingly arranged sundaes in the antique glassware. Stories were shared and rituals were passed on to us over malts and house specialties, such as Dinosaur Freckles and the Dusty Road.
When I was young, Yvonne, the owner at the time, was the sundae queen behind the counter. The place wasn't set up for grab and go then, rather you sat on one of the stools (but never swiveled, because that was impolite and would deteriorate them) and perused the menu as you would at a fine dining establishment. The counter wasn't very large, so when you went, it was with a small group, the type of outing you planned with your closest people. A date at Gessert's was meaningful.
There was the relief of walking in on a scorching summer afternoon and meeting the air conditioning, knowing you would soon be eating something frozen. I remember my childhood friends and I watching Yvonne prepare the sundaes, taking in her methodical assembly. She would begin by reaching her arm into the ice cream case, a case so deep we swore she could fit inside. Then the toppings, whipped cream, and a cherry delicately placed on top. There was a peaceful rhythm to how she carefully arranged each element in the dish.
She was serious about her craft and through the glasses on her face you could see her kind eyes paying close attention to each and every item served. The anticipation of receiving a sundae so thoughtfully created made it taste even sweeter. She taught us how to hold the special dishes and always gave us tiny cups of water, because ice cream makes you thirsty. Thanks to Yvonne, I know the role malt powder plays in transforming ice cream into something even more decadent and still choose malts over milkshakes anywhere I go.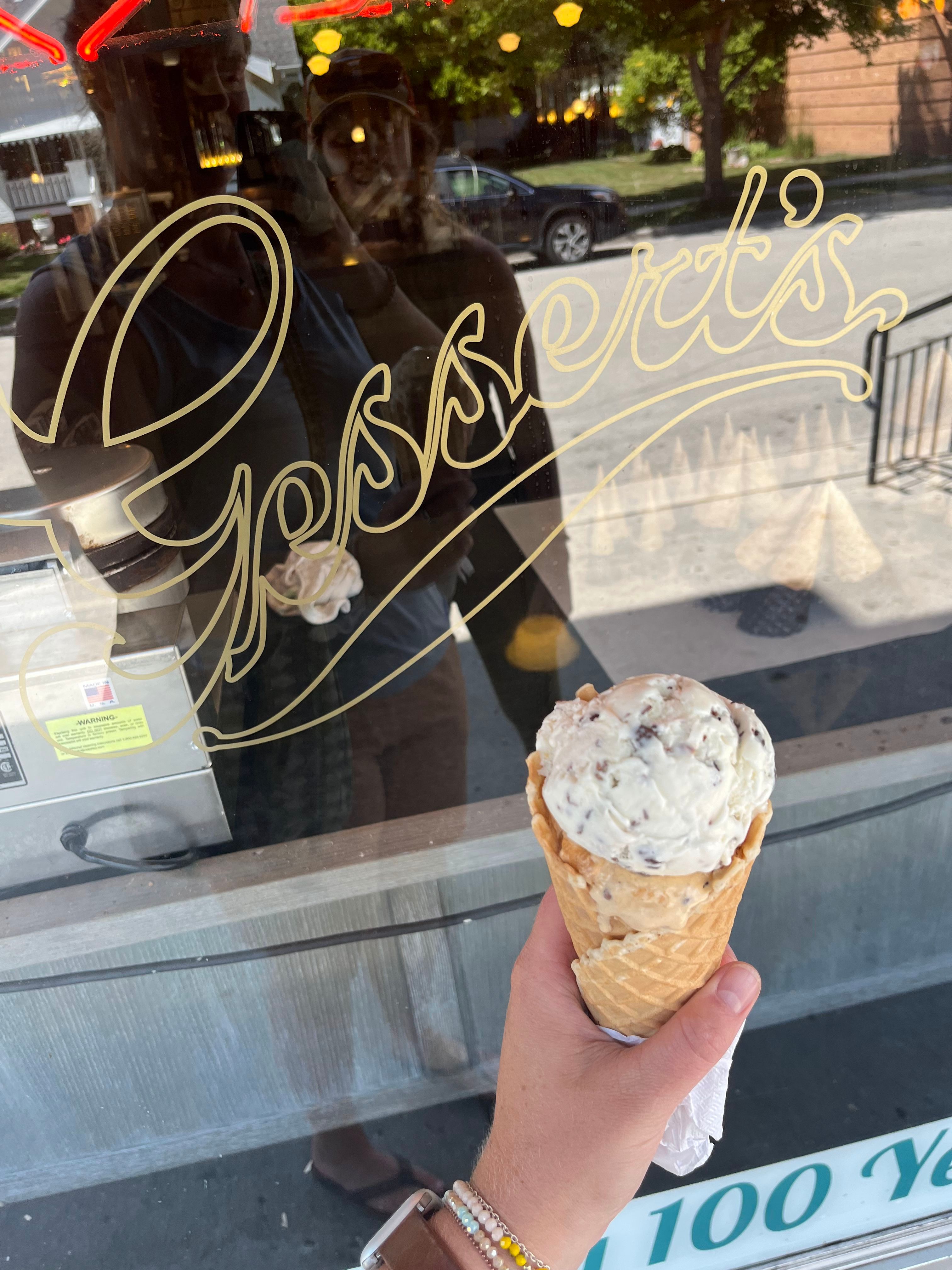 Through her devotion to the ice cream dining experience, we were taught etiquette and the importance of savoring summer with loved ones. My most vivid memory while sitting at that counter was trying a chocolate soda for the first time. I don't remember how old I was, but I do remember my father insisted it would be the summer for me to discover them. My grandparents shared their love of Gessert's chocolate sodas with him at a young age, and now it was my turn to see what all the fuss was about.
As a devoted Dusty Road patron (chocolate ice cream topped with marshmallow cream and malt powder), I was incredibly curious about what carbonated chocolate would taste like. Because we were at Gessert's, I knew this was the type of treat to sip slowly. It wasn't easy for me to do that though, because my first taste was transformative and made me want to inhale the whole thing down within seconds. That day changed my life and I've searched far and wide to find a chocolate soda as good ever since. Finding them on menus at all is a rare occasion.
While the ice cream was divine, I think most would agree the experiences were memorable due to the feeling of life pausing for a moment as you gazed up at the Coca Cola posters above the counter while listening to big band oldies play on the a.m. radio. As you watched Yvonne make masterpieces with such care, you were invited to enjoy it more deeply. When you are given the opportunity to savor, the memories really stick with you, lasting long after you finish your ice cream. Sitting at that counter as a child, you tasted what would one day be the very thing you returned to – the unlocking of nostalgia, a visit to summers past.
While Yvonne no longer greets you behind the counter, the new owners have done an outstanding job of continuing a legacy that locals and visitors come back for. The preciousness of the place remains with the light up sign out front beckoning you inside. Once you enter, you'll be greeted by the aroma of house made waffle cones, and you'll likely hear 1920s tunes playing. Towards the back of the main room, you'll notice booths surrounded by black and white photography that documents the historical significance of the establishment.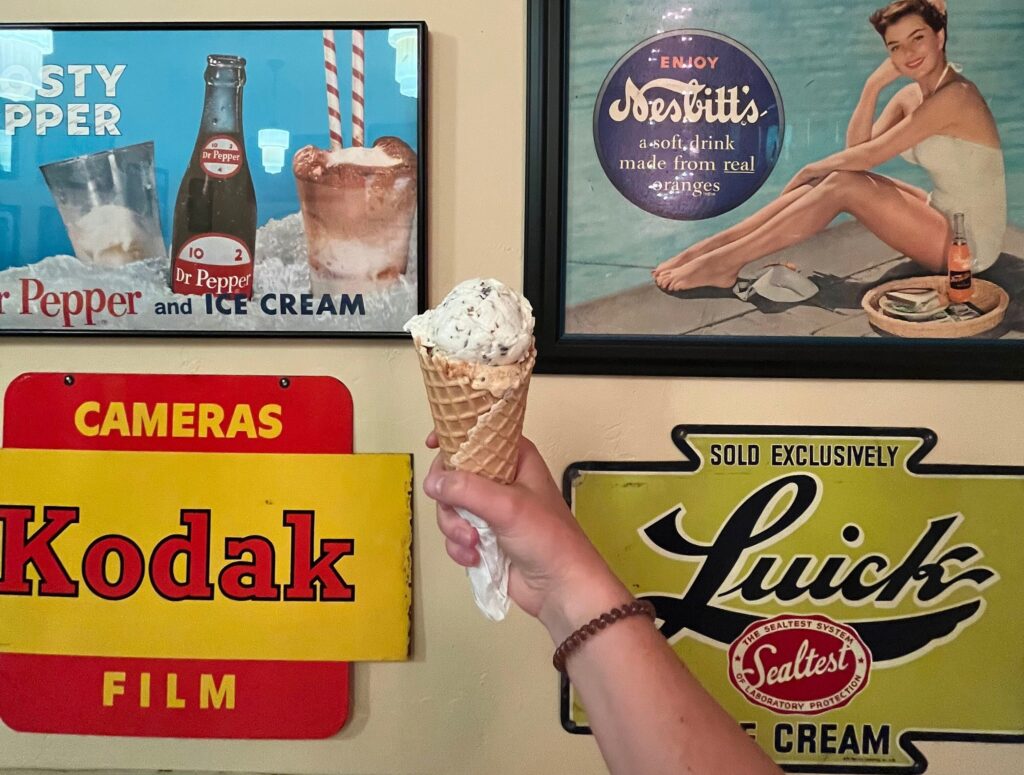 In the very back room, you can still see a tribute to the counter and stools that we were taught to sit politely on as kids. Today, when you glance at the menu, you'll notice they still offer the chocolate sodas. If you've never had one, I recommend you try it. Whether you go for an ice cream soda, a malt, or a sundae, it is worth the additional time to enjoy it within the walls of Gessert's. Don't sip or eat your treat too fast though. Really savor it. If you let it linger on your palate, chances are it will linger in your heart too. This is the Elkhart Lake way. May it continue for at least one hundred years more.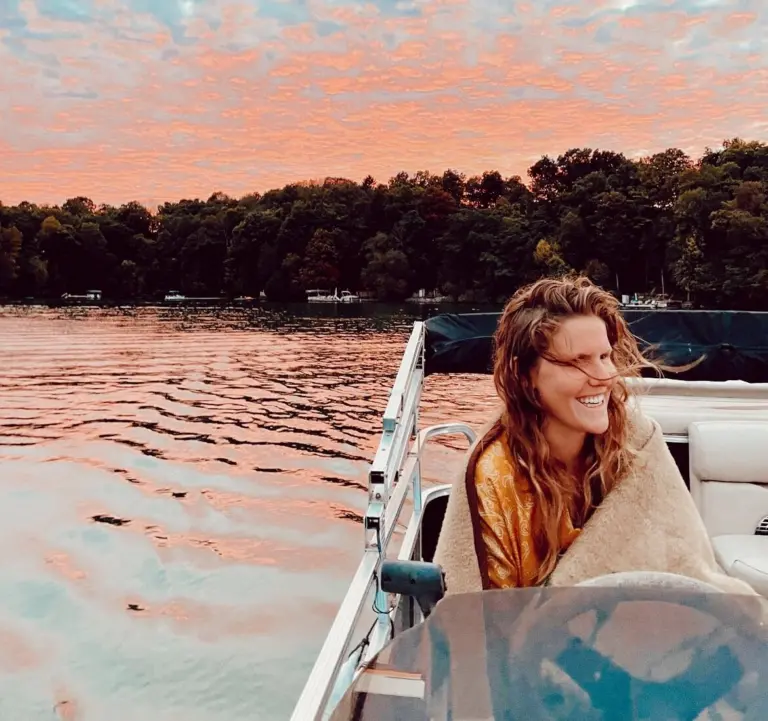 Meet the Author
Kate Vollrath
Kate Vollrath was born and raised in Elkhart Lake. After several years of working and adventuring in Anchorage, Alaska and a year studying in Italy, she has returned to her favorite freshwater shoreline. Wisconsin will always be home. The incredible local culture, extraordinary community, and summer Sundays on the water are what keep her rooted and returning no matter where life takes her.