By Molly Rabe
Growing up near Elkhart Lake, this small town has always been a part of my life. Working at Siebkens Resort every summer throughout college, I've have had many long nights out at the Tiki Bar, countless coffees at Off The Rail, and spent plenty of days soaking up the sun on Fireman's Beach. With all the memories I've made here, Elkhart Lake holds a very special place in my heart.
Since most of my family is from out of state and we had friends coming from across the country, my now-husband Ryan and I wanted to get married in a place that would be accommodating for both local and out-of-town guests. Elkhart Lake felt like an obvious choice because of its welcoming hospitality, small-town charm and our close connection to the area.
It was so special to experience a different side of the Elkhart Lake community throughout the wedding planning process. We chose to work with mostly local vendors, which illuminated how tight-knit the community really is. North Gate Floral, located in downtown Elkhart Lake, did an amazing job with all of my flowers. Maggie was a dream to work with in all of the madness of planning a wedding. She personally delivered my flowers to the church and made sure every detail was perfect at the ceremony and at the reception. Everyone was incredibly helpful throughout the planning process and provided their personal expertise to ensure that our day would be beautiful, special, and unique for us.
The Night Before
The Friday before the wedding, we met some family and close friends at Osthoff's Lake Deck. The live music and relaxed atmosphere was the ideal way to kick-off our wedding weekend. We were able to mingle with our guests who traveled for the weekend and show them the beauty of Elkhart Lake, since many of them had never been there before. Plus, everyone was able to walk to their hotel rooms afterwards, it doesn't get more convenient than that!

The Big Day
Now, onto our absolutely magical wedding day! Spending the morning in the bridal suite at The Osthoff felt so intimate and relaxed – exactly what I needed to prep for the big day ahead. It was convenient to have a suite for my bridal party on site of the venue along with a lunch spread that was brought up to our room from Otto's Restaurant. Plus, there was plenty of space for our hair and makeup team to set up right in the suite and the balcony made the perfect backdrop for a few "getting ready" photos.
The vibe for our wedding was glam, formal, with pops of modern. We wanted something unique that expressed our personalities and I felt like our vendors had such a fun time creating our vision! The Osthoff Grand Ballroom was transformed into exactly what I had envisioned.
Honestly, the reception is a little bit of a blur to me because of how many people we talked to (If you've had a wedding, I'm sure you can relate!) I was so grateful for The Osthoff's wedding coordinator, Lori, who checked in with us throughout the night – she even made sure we sat down to eat and enjoy our meal!
If you've ever been to The Osthoff, you know how beautiful the grounds of the resort are, so my new hubby and I snuck out of the reception and took some photos outside at dusk. The beautiful August weather had other guests of the resort out and about – it was so much fun running around the grounds in my wedding dress and hearing friendly "congrats" from other visitors!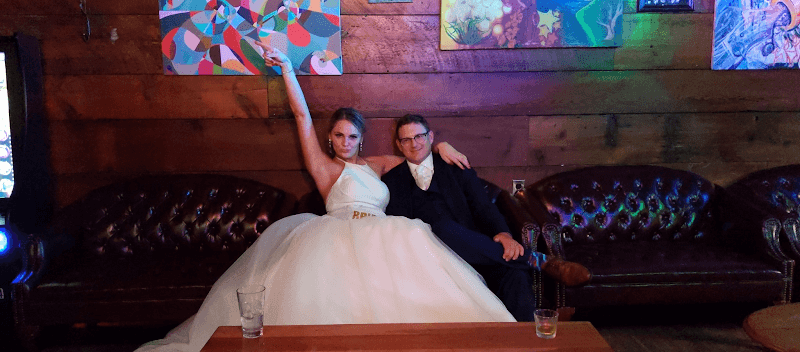 The After Party
We danced the night away at The Osthoff until midnight. After the reception, Ryan and I felt like we could finally relax and have some time together, so family and close friends walked to the Brown Baer with us for some late-night cocktails. Like I said before, our whole wedding day was beautiful… but I'd be lying if I said this wasn't one of my many favorite parts of the day. Swinging in the fun bar swings in my puffy dress, catching up with old friends and finally spending some time with my hubby was a perfect end to a perfect day.
I cannot thank everyone who made our special day perfect. Each of our vendors wanted to truly get to know us as a couple to be able to make our vision come to life. I can't imagine getting married in another place – Elkhart Lake's close-knit community, beautiful summer weather, luxurious and convenient accommodations were exactly what we wanted to make our big day perfect.
Wedding Date: August 10th 2019
Vendors
Venue: The Osthoff Resort
Cake: Bettersweet Bakery
Floral: Northgate Floral
Hair & Makeup: La Bella Salon
DJ: Boogie Time Duke
Rentals: Cover it With Class
Photography: Frontroom Photography
Dress: Miss Ruby's Bridal Boutique
Floral Backdrop: Enchanted Wall Flowers
Bridesmaids: Azzazie
Groomsmen: The Black Tux
Molly Rabe
Molly Rabe (Hetzner) grew up in Kiel, Wisconsin and now lives in Plymouth. She currently teaches dance at Brittany's School of Dance in Plymouth and attends the University of Wisconsin-Milwaukee where she will earn her master's degree in Administrative Leadership in Adult, Continuing, and Higher Education this May. Elkhart Lake holds a special place in Molly's heart as she spent her summers in college working at Siebken's, where she made life-long friends and unforgettable memories.