By Kate Vollrath
After letting out a final exhale at the Aspira yoga class last Saturday, the woman next to me shared that she was visiting from the Madison area and was hoping to do some golfing with her son and her husband. "I'm not a big golfer," she quickly let out, "We just really want to spend some time outside with one another, nothing too serious. The priority is fun this weekend." I asked her where they were planning to swing their clubs and she asked me where I would recommend they venture.
Without taking a second to consider my answer, I pointed my finger to the southeast and told her she didn't have to go more than walking distance from where we were currently sitting on our yoga mats. The sun was casting rays through the patches of clouds outside the window showing off all the foliage that feels extra green during late spring in Wisconsin. I smiled thinking about the local golf course just steps away and how stunning it is, particularly this time of year when the season finally shifts, and the trees get their leaves back.
Quit Qui Oc is not your average golf course. Both summer and autumn are breathtaking, whether you go for the early bird tee times or prefer to wrap up your day with some golden hour swings. The grounds glow and really put on a show, showcasing iconic Wisconsin scenery. But it is the impeccable third generation family run hospitality that leaves a lasting impact on anyone who spends their day walking the course.
While many who play in the long-standing leagues are seriously good golfers who return for more every summer, beginners who are just learning basic technique and their way around the undulating rolling hills will also feel its one-of-a-kind atmosphere. It is far from a pretentious feeling golf club. The place welcomes anyone who is serious about what matters most to its owners and regular patrons – time spent with those who remind you of the importance of having a good time. To golf at Quit Qui Oc is to be a part of an extended family that puts making memories high on the list of priorities.
Whether you take a lesson with Todd and learn what it truly means to loosen up while you're holding the club (a lifetime skill that is useful both on and off the course), take a few pointers on the foundations that make all the difference from Rachel during your weekly league, or head to the driving range after work with your friends before the sun sets, the place will welcome you in as family.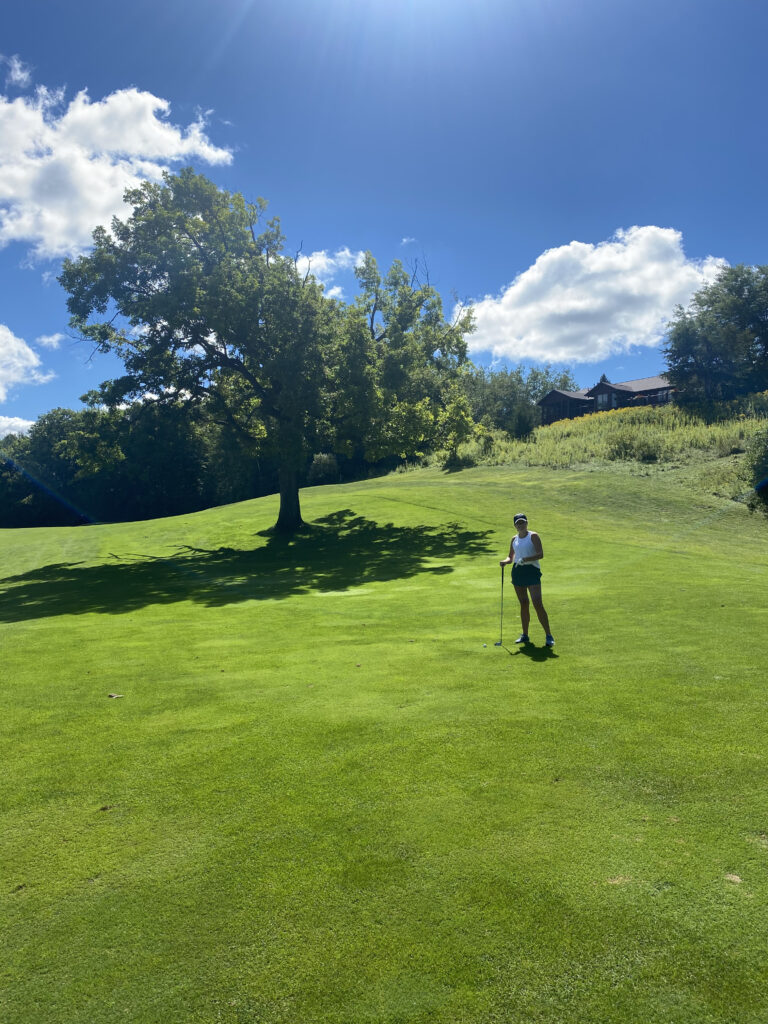 Locals do love it for the game, but what they really love it for is the memories that can be made during the time it takes to play nine or eighteen holes, and the time spent afterwards reveling in who had the most birdies that day over old fashioneds at the club house. And if you happen to be there on a Friday, a five-star day includes a round of golf followed by one of the absolute best Friday night fish fries in the county.
Elkhart Lake contains a pace of life that you can feel after one look at the population signs. This small community lives in its own little time zone. The true spirit of the village can be felt on the glaciated greens of Quit Qui Oc Golf Course. I assure you, even if you aren't quite sure how you feel about golf just yet, the place will welcome you in, and invite you to inhale the goodness of slowing down and taking in the day, hole by hole, drive by drive, putt by putt.
Kate Vollrath
Kate Vollrath was born and raised in Elkhart Lake. After several years of working and adventuring in Anchorage, Alaska and a year studying in Italy, she has returned to her favorite freshwater shoreline. Wisconsin will always be home. The incredible local culture, extraordinary community, and summer Sundays on the water are what keep her rooted and returning no matter where life takes her.