Each year that passes, I fall a little deeper in love with the month of June. Maybe it's because you can see a little deeper into the lake and notice the schools of minnows glittering below the surface. The water is impressively clear in early summer, and there's something about diving into the lake before it hits the bathwater temperature of July and August, when it still grabs your breath from you. June is the opening chapter, when the magic of the season announces itself in emerald green and you can't help but have a double take at the trees and everyone's gardens.
Here we are, just one day away from summer solstice. Our bodies are warming up and ready to welcome all the possibilities the season promises. It's time to soak in every drop, and create moments of calm for yourself before every weekend on your calendar becomes spoken for. Oftentimes the activities that require little money and just a little effort are the ones that really allow summer to seep into your bones. Below are a few ways to sneak in some slower paced hours of your day during your visit to Elkhart Lake.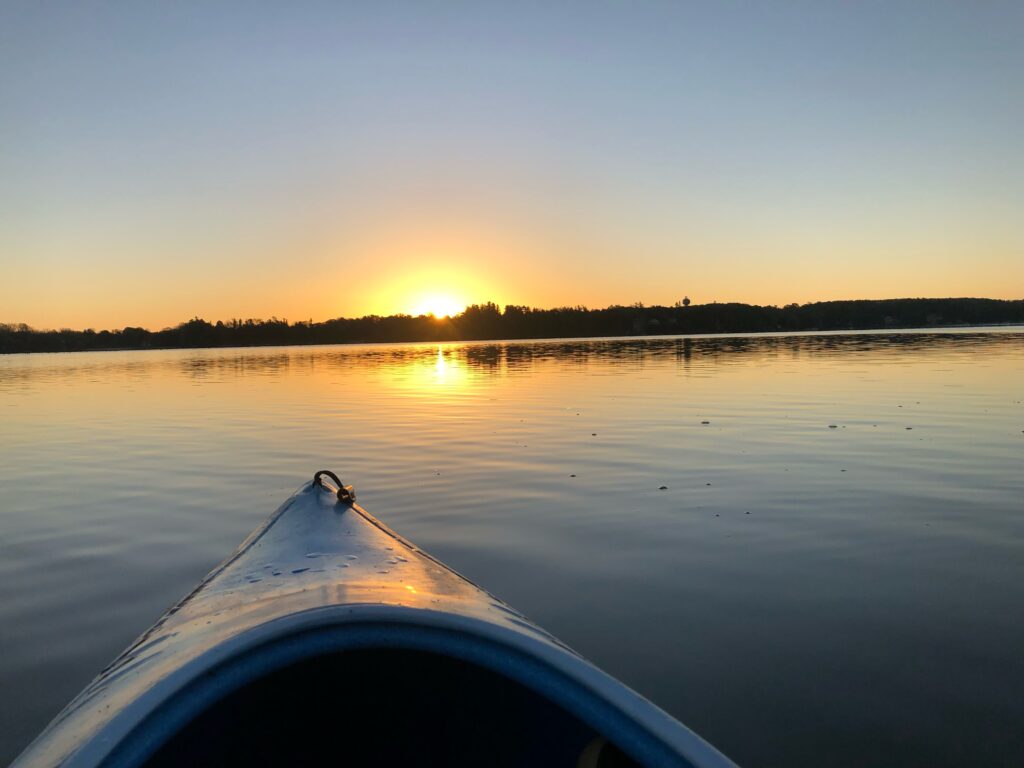 Sunrise on the lake
If you can muster the energy, catching the sunrise from a kayak or paddleboard is truly worth the minutes of sleep to experience. Set your alarm with enough time to make a to-go coffee and skim over the morning's mirror to greet the sun.
If sunrise is out of the question while on vacation, heading down to your hotel's waterfront before 10:00 a.m. will grant you a view of the gloriously glassy water before the motorboats make waves. Seeing the lake in its undisturbed state can be a really calming way to start your morning. If you're a swimmer, this is also the time to get your strokes in.
Early bird walk through the village
A morning trip on your own two feet can lead you everywhere you may need to go in Elkhart Lake. Strolling with no goal other than to look at the trees canopied over the historic downtown and listening to the birds is a lovely start to summer mornings. Locals take their familiar routes through town to enjoy the seasons in all their glory with the objective of simply walking with nowhere to be, with no sense of urgency.
If you want a few points of interest within the village while you stroll, a coffee at Off the Rail and then wandering through the aisles at the Public Library for a book or to check out the summer programming is a solid start. The Village Square Park just outside of the library is a sweet little spot to enjoy coffee or a picnic any time of day. If you want to take in some history, the Schamberger Gallery on the corner of Lake and Elm Street just announced their summer hours: Thursdays – Saturdays 10:00 a.m. – 2:00 p.m. It's a quiet place to step back in time while checking out photos from Elkhart Lake's past.
Another corner of serenity within the village is Two Fish Gallery. There are few things more soothing than art and nature. Here you can find pottery and a sculpture garden with a lily pad pond outside of the studio. There's also an adorable cat named Ziggy who hangs out inside the gallery if you are in need of some pet therapy.
If you choose to take a walk later in the day, consider grabbing a scoop of ice cream from Gessert's and then heading towards the lake to finish your treat before it melts while taking in the spectacular view. (It may be a small village, but there is no shortage of treats and views to be found!)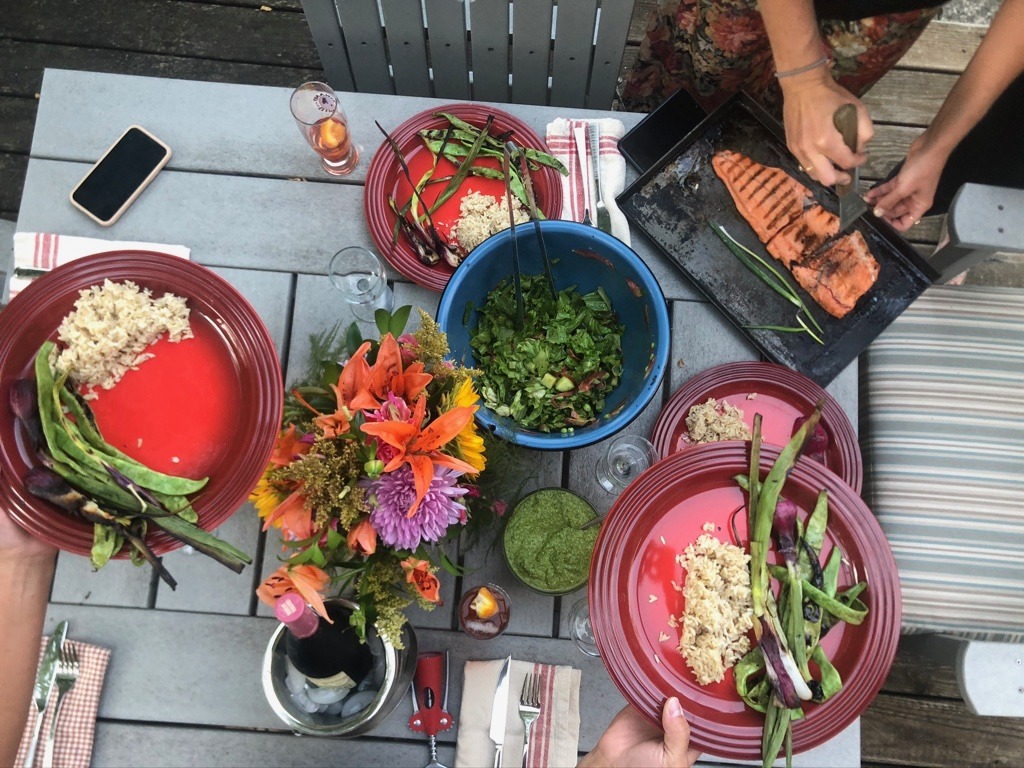 Farmers market flowers
While the Saturday farmers market can be quite a happening place, if you get there early you'll find the perfect bouquet to transform your table by lunchtime. The flowers at the market stand are stunning and affordable. Once you get your newfound florals into some water, simply inhale and admire. Your Saturday will start on a lovely note and serve as a reminder of the fact that you're staying in a magical little village with fairytale flowers.
For those who need a bit of adventure to unwind
If you're the type of person who needs a little more adventure to quiet your mind, grabbing a rental bike from The Shore Club will allow you to cover all of town in no time. There is also The Sheboygan County Marsh tower that is just four minutes by car from the village. Climbing the tower lets you take in Wisconsin's summer symphony of green foliage and the impressive natural wetland system Elkhart Lake is connected to.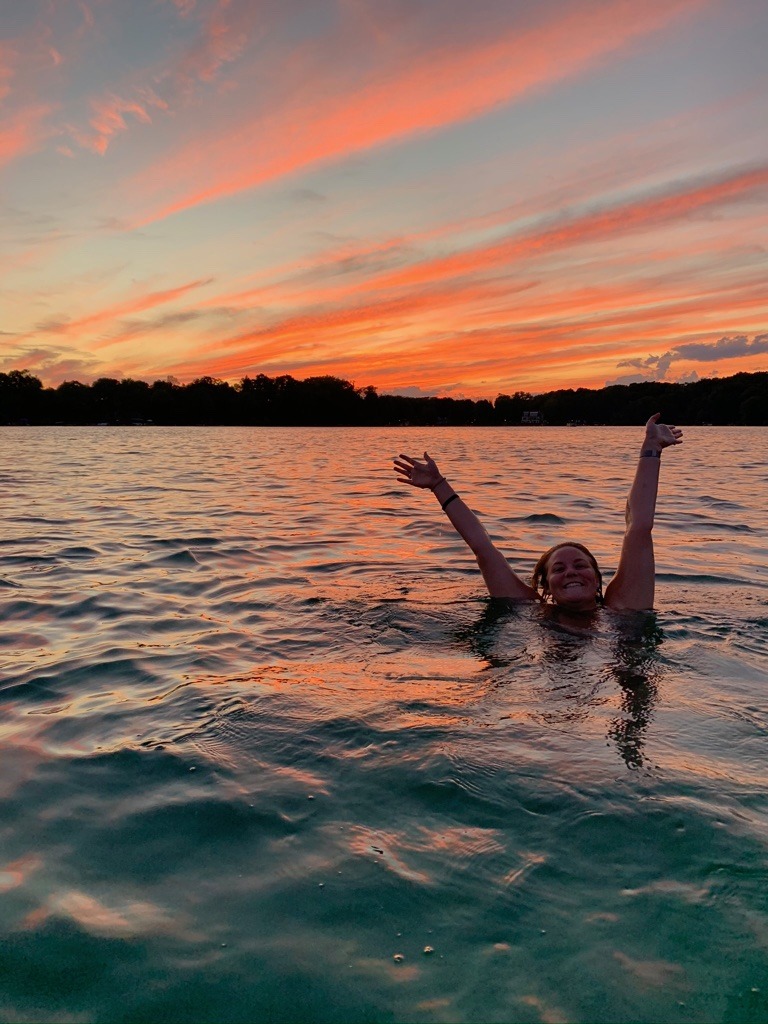 Sunset by boat or beach, bonus points if you catch the moon
Definitely make it a priority to catch the sunset from water or on shore. Both the resort and public beach areas are positioned well to see the sun sink down on the western side of the lake and paint the whole sky pink. The sun gets a lot of credit at the lake, but another special character that hangs out above the water is the moon. Check out the moonrise and moonset times online while you're in town. Seeing the moon's reflection in the lake's mirror is a treasure that costs nothing other than maybe a bit of your evening slumber depending on the moon calendar during your stay.
When you step into the 53020 zip code there's no need to rush. Some say it's like stepping back in time, others feel it's like returning home or reconnecting with an old friend. However it feels for you, don't be surprised if the solitude causes you to respond to texts a little more slowly than usual, or if your pace on the sidewalk begins to slow enough for you to catch the flowers in their brief, yet brilliant bloom. That means the magic of the place is working. You've allowed Elkhart Lake to wash over you, and you'll be better off because you did.
Kate Vollrath
Kate Vollrath was born and raised in Elkhart Lake. After several years of working and adventuring in Anchorage, Alaska and a year studying in Italy, she has returned to her favorite freshwater shoreline. Wisconsin will always be home. The incredible local culture, extraordinary community, and summer Sundays on the water are what keep her rooted and returning no matter where life takes her.