Depending on who you ask, growing up in a small town can feel like a mixture of equal parts idyllic and isolating. And if you ask those who grew up in a small town with long winters, they'll probably tell you that days spent cooped up hearing winter wind whistle against a window can lead one to discover a lifelong skill of creating your own joy. Wisconsin winters can be challenging. They can also spark creativity, community, and a commitment to celebrating northern latitude living. And celebrating that means you must become friendly with solitude, to the point of one day craving it.
Although there were moments growing up when I daydreamed about living in larger, louder, more bustling places, I now crave the slowness and serenity that defines my hometown. No matter the season, Elkhart Lake is a place that seeps into you and asks you to move through life a little bit more mindfully. Locals will tell you that to truly know the village is to experience it at its pace rather than the busy one you are accustomed to. When you enter the village limits, you have officially begun living on Elkhart Lake time, and that is a wonderful feeling.
When we find ourselves still living within winter, yet our minds are shifting into spring, it is an excellent time to visit the shores of Elkhart Lake. I know what you're thinking, "What is there to explore while the lake is still thawing?" I assure you, if you take the time to slow down and listen, the lake and the village will answer you by restoring your body and mind. Here are a few ideas for how to enjoy the late winter season as you journey through the home stretch of the icicles dripping.
There are options to enjoy the beauty of the area that will cost you nothing and local businesses that hold down the fort year-round for little bits of luxury for those seeking that too.
Take in the forests and fresh water of the Kettle Moraine
Visit the Kettle Moraine State Forest where it's so quiet you can hear the snow fall and listen to the trees wave at you in the wind. There are sections where you can wander into dense pines and feel you've entered Narnia. Walking beneath those tall trees can be a helpful reminder that winter is as beautiful as it is brutal. I've escaped to them a time or two when winter felt long and spring was nowhere in sight. Every time you return from those trails, you'll feel better than when you pulled into the lot. If you're feeling a little more sporty, the trail system has designated areas for cross country skiing.
Winter may still be holding on, but we are gaining more sunlight each day. Wisconsin winter sunsets do not get nearly as much credit as the summer ones do. Maybe it's because viewing them does require some effort to venture outside just as it's starting to become tempting to cozy in for the night. Make this the year that you become a chilly weather sunset catcher and visit the Sheboygan County Marsh Tower. At this lookout point you can take in the sun sinking over the natural wetland that Elkhart Lake is connected to. You can also head to the Osthoff Resort's brick walking path beside the lake and watch the sky turn pink across the ice. Winter days feel warmer and longer when you take the time to say goodnight to the sun.
Walk beside the lake where you can hear the frozen water expand and contract and send creaking noises from shoreline to shoreline. I know this may sound like a very simple and even silly thing to spend time doing, but this is something that locals seek out and then discuss with one another during the winter months. It's a sound that is unique to the winter season and people find joy in getting quiet enough so they can listen to what the lake has to say.
Find treasures and treats in town
Once spring comes, you know life will become a little more busy, so take advantage of the last bit of quiet time and catch up on your reading list. You can get an Elkhart Lake Public Library card for free and grab some reading material to carry you through the rest of the frosty nights.
When the temperatures don't warm up quite as quickly as you'd like them to, you can count on Off the Rail or Lake Street Café for hearty soups. Then get a new candle or bath product at Gina's Fine Gifts to turn your bathtub into a spa experience. Baths and candles make days instantly brighter and warmer regardless of the groundhog seeing his shadow.
If you're seeking a real spa, check out the Aspira Spa at the Osthoff Resort. They offer a full range of spa services plus a hot tub, sauna, and meditation room. After you properly soak, steam, and soothe your body, visit Vintage Elkhart Lake for wine and cheese to help you celebrate the fact that you will wrap up winter on a note of thriving rather than surviving. And if you're feeling fatigued after a season that can bring grey days, Two Fish Gallery's shelves are filled with vibrant earth-colored art that make any day feel like summer no matter the season.
If you fancy a down-home Wisconsin escape from the cold, you can always count on the Brown Baer for an old fashioned or beer on tap. Most likely you will be greeted by a local bartender and see several camouflage coats hanging off bar stools. SwitchGear Brewing Company is also a great option to tuck into for the beer drinkers, and with the chilly air outside, their dark stout is always recommended.
If you want to wrap up your day with the pinnacle of comfort, feast on the house specialty Bolognese for dinner at the Paddock Club. If you're feeling extra proud of yourself for making it through February, do order the panna cotta. Nothing celebrates the days getting longer like witnessing the winter sunset across the village sky and then tasting food made with local ingredients and lots of love. It tastes even better during this time of year where it's easier to grab a window seat and locals fill the bar.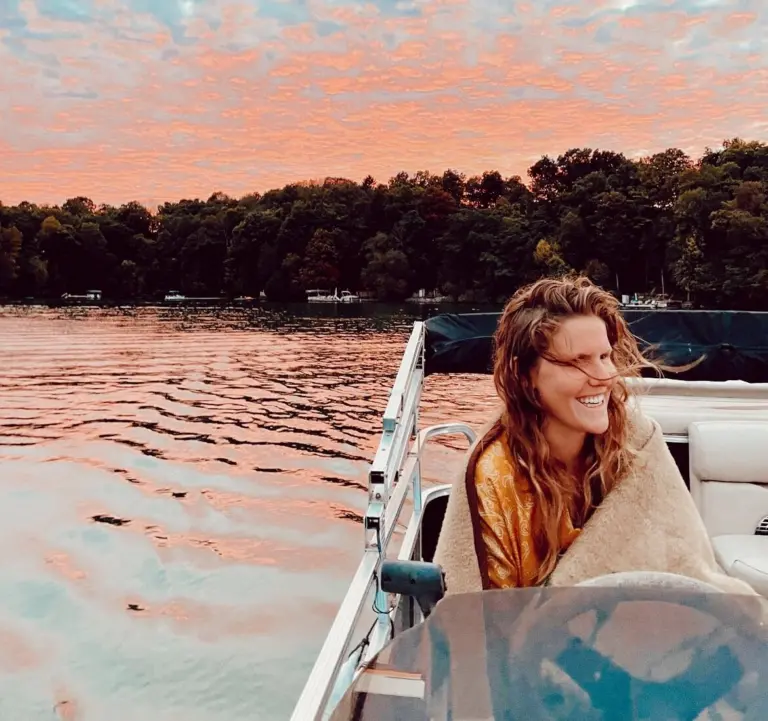 Meet the Author
Kate Vollrath
Kate Vollrath was born and raised in Elkhart Lake. After several years of working and adventuring in Anchorage, Alaska and a year studying in Italy, she has returned to her favorite freshwater shoreline. Wisconsin will always be home. The incredible local culture, extraordinary community, and summer Sundays on the water are what keep her rooted and returning no matter where life takes her.