By Martha Schott
Swimming, boating, fishing, biking, playing, laughing… so many images come to mind at the first mention of a visit to Elkhart Lake in the summertime. If you are a kid, the excitement of a day or a week or a summer at Elkhart Lake is almost overwhelming. And that's exactly why I'd like to propose another amazing Elkhart Lake experience to balance the swimming, boating, and fishing activities, and that is reading.
Reading?
Yes! The Elkhart Lake Public Library is an amazing resource for kids and parents who visit our area from near and far. Our grandsons Ethan King, age 13, and Noah King, age 11, are currently signed up for the library's Summer Reading Program which runs from June 10th to August 17. The boys got to the library regularly this summer because they also signed up for the two-week Elkhart Lake-Glenbeulah summer school program, and many summer school activities involved the library. (Did you know that out-of-towners can participate in summer school here?)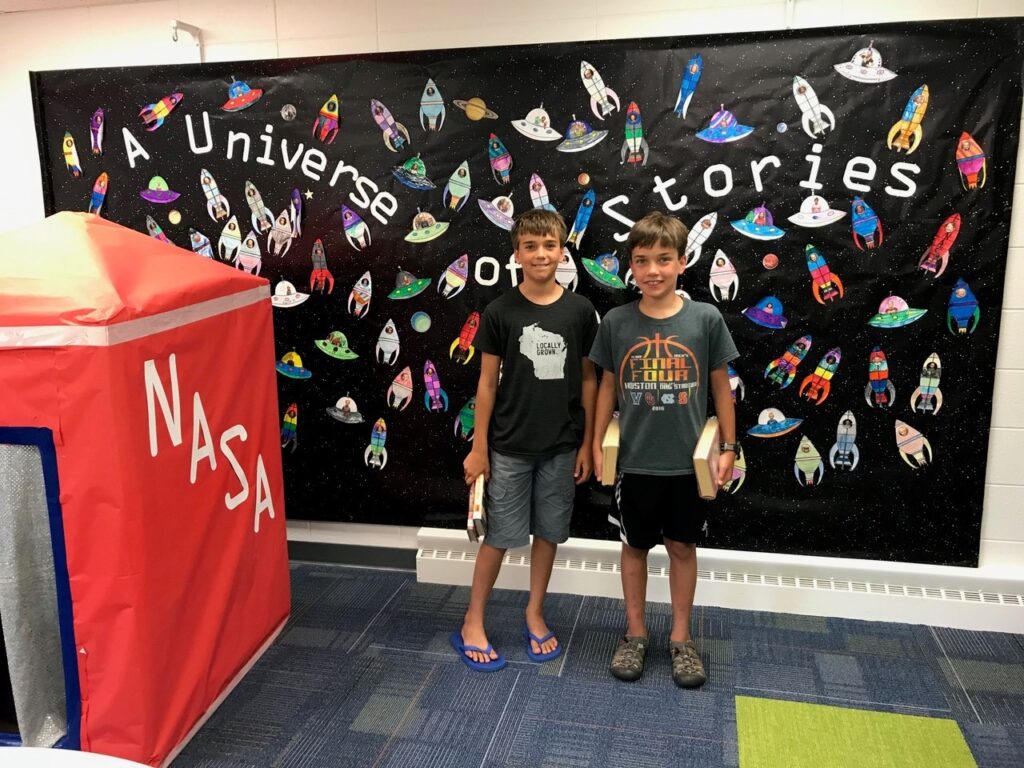 The theme this year's library reading program is "A Universe of Stories," and all of the story times and programs have a space travel theme to them.
Each kid who signs up for the program is invited to color a rocket ship cutout which is posted on the "universe of stories" wall along with the kid's photo. Each kid also gets a special book bag and, once they log reading hours, they get coupons for The Milwaukee Bucks, The Wisconsin State Fair, The Milwaukee Public Museum, and more.
The King boys got free ice cream at Culvers thanks to the reading program.
In addition to the coupons, kids can actually win prizes for reading – and good prizes, too!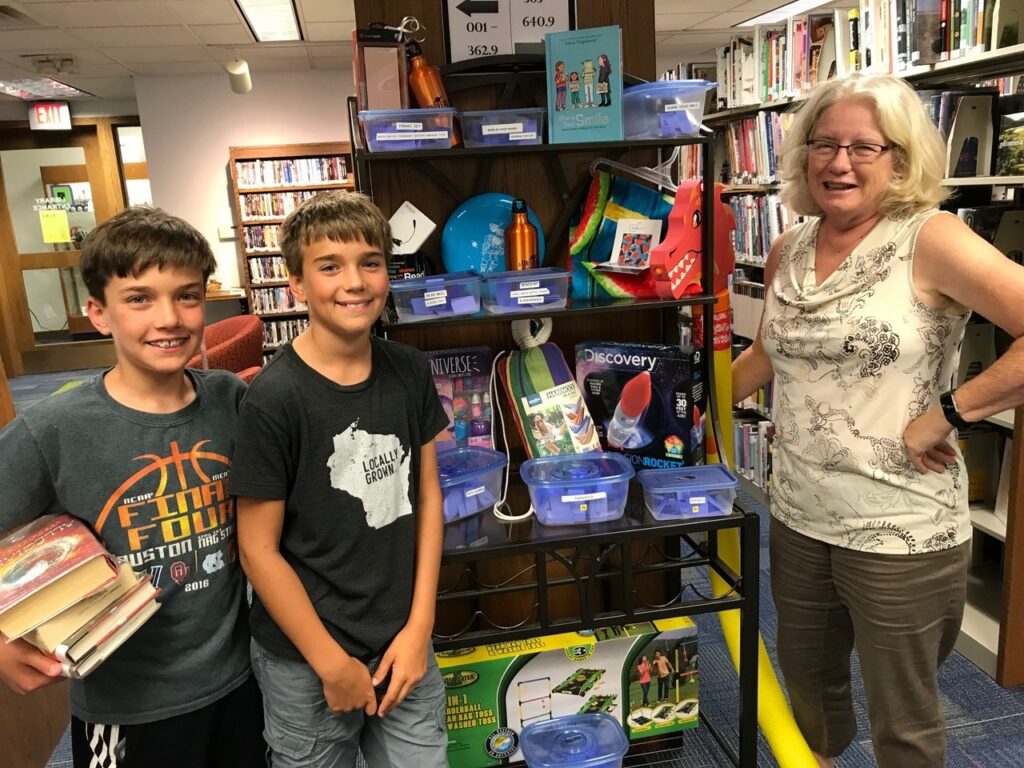 We visited the library recently to check out new books and return the ones the boys had finished. Ethan was looking for the next book in the Veronica Roth series after the book Divergent, and Library Assistant Rachel Montes helped him order the book from another library. She also introduced him to another series that she thought he might like based on his interest in the Roth series. "My son likes this series, and I think you'll like this too," she said.
Both boys agreed that the librarians are really helpful.
"Rachel helped me find some World War II books I was interested in," said Noah.
"The prizes here help motivate kids of all ages to read because they have something for everybody," said Noah (Noah has his eye on the portable phone charger.) "You might win a really good prize – which is a lot better than reading for hours and getting a pencil."
Ethan has his eye on the Discovery rocket that can soar up to 30 feet powered by baking soda and citric acid. Prizes are determined by a drawing of names based on the number of hours each kid has read and the kid's choice of prizes.
There is a group prize too. All the kids were rewarded for having a cumulative total of over 500 hours of reading as of July 17th. In fact, the more than 100 participants in the summer reading program logged 912 hours by that deadline, and they were all invited to a build-your-own sundae party at the library on July 17th hosted by Library Director Betty McCartney.
Coupons and prizes and parties are great, but of course, the real benefit of the library program is the connection kids feel with the people who help them at the library and their personal growth through reading.
So Elkhart Lake locals and visitors, when your kids or grandkids (and you!) need a break from the sun and outdoor fun that we enjoy in abundance in this unique village of ours, think about getting involved in the Elkhart Lake Public Library. The summer reading program continues through August 17, but you can enjoy this friendly resource year round.
You don't have to be a local – in fact you don't even have to be a kid. All ages are invited to participate in the library's Summer Reading Program.
The library Summer Reading Program is sponsored in conjunction with the Elkhart Lake-Glenbeulah Elementary School. The Friends of the Elkhart Lake Public Library helped raise money for the Summer Reading Program.
The library is located at the Grasshorn Civic Center, 40 Pine Street, Elkhart Lake. ElkhartLakePublicLibrary.org
---
Martha Schott
Martha Schott taught nonfiction writing at Lakeland University for 19 years. Now retired, she teaches memoir writing to the residents of the Cedar Landing/Cedar Bay community in Elkhart Lake, and she spends lots of time enjoying Elkhart Lake's fun spots and activities with visiting grandchildren. She is a permanent resident of Elkhart Lake.